LGBTQ Family Lawyer Austin, TX
LGBT Rights
What does the Supreme Court ruling mean for LGBT rights?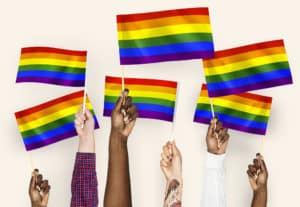 What does the Supreme Court ruling mean for LGBT rights?
The landmark Supreme Court ruling Obergefell v. Hodges established that The Constitution guarantees same-sex couples the right to marry.  This decision also opens other previously closed opportunities for same-sex couples.
 Couples married in another state prior to Obergefell, but who have lived in Texas could not legally divorce until the Supreme Court's ruling.  Now, married same-sex couples who want a divorce have the same marital property rights as heterosexual couples. ​
Common Law (Informal Marriage)
For heterosexual couples, Common Law Marriage (or Informal Marriage as it's defined in Texas) has been an issue for years.  Now, same-sex couples might possibly have claims and property disputes arising from "Common Law Marriage."
Contrary to public opinion, living together for a set amount of time does not make you common law married in Texas. In fact, the elements of Informal Marriage are: Tex. Fam. Code § 2.401.
  1) Parties agreed to be married;
2) Parties held themselves out to the public as married;
3) Parties lived together as husband and wife.​
In many common law marriage cases with heterosexual couples, proving the parties intended or agreed to be married can be a problem.  However, this might be a lot easier to show for same-sex couples who participated in a ceremony or union (regardless if in Texas or not) during a time when same-sex marriage was not recognized by Texas.
Legal Protections for Individuals in Same-Sex Relationships
Many same-sex couples who were eager to get married have already done so in the wake of the 2015 Supreme Court ruling. But there are plenty of other couples who were in no hurry to legally formalize their relationship because they had been living without legal recognition for so long already.
No matter which scenario best describes your relationship, it is important to note that marriage equality doesn't necessarily confer divorce equality to same-sex couples, because Texas divorce laws are outdated. As are the family laws in Texas generally as applied to non-traditional couples and family structures. This is one of the many reasons why it is important to connect with an experienced Austin, TX LGBTQ family lawyer in the event that your relationship is coming to an end, you're thinking about entering into marriage, or adopting children. There are some steps that the team at the Law Office of Jason Wright, PLLC can take within existing laws to protect you and your family even when the law is unclear or not squarely in your corner. 
Prenuptial Agreements for Same-Sex Couples
The average age of marriage has recently gone up for everyone in the United States, and especially for same-sex couples (who could not marry until recently). As such, you are likely going into marriage with individual assets that you'll want to protect in the event of divorce. Creating a customized prenuptial agreement is one of the best mechanisms for doing so.
Prenups aren't just for celebrities or the very wealthy. They are for anyone who has amassed some personal wealth, however modest, who wants to ensure that they remain separate assets if divorce ever occurs.
A prenuptial agreement is also a good idea if you have been with your partner for a long time (years or even decades) but are just now getting married. You likely commingled assets a long time ago, but under the law, your community property is only the property acquired during the formal years of your marriage. In this way, a prenuptial agreement could actually create more community property, which is a good thing if you are striving for real equity in the divorce as well as in the marriage. Regardless of how long you and your future spouse have been together, our Austin, TX LGBTQ family lawyer team can help you to construct a prenuptial agreement that makes sense for your unique needs. 
Adoption of Your Own Children
This sounds like a contradiction in terms, but it is important for many LGBTQ individuals to formally adopt the children they are already raising with their partner. Because same-sex couples need a third party to conceive, only one member of the couple may potentially be biologically related to the child or children. As the non-biological parent, adopting your children can give you much more protection and ensure your parental rights if a custody dispute were ever to arise.
If you and your partner are adopting together and neither of you is biologically related to the child, there are fewer risks involved. But if your partner came into the relationship with an adopted child and you didn't also adopt that child later on, you may not be on solid legal ground if your parental rights are challenged in the event of a split. Working with a Austin, TX LGBTQ family lawyer to formalize your relationship with your child under the law can help to protect your interests and their interests into the future. 
Contact a Family Law Attorney with LGBTQ Rights Experience
Marriage and divorce are a relatively new landscape for many same-sex couples. Especially because the laws haven't caught up with the new reality, it is important to protect yourself and your partner using some creative workarounds. Contact our Austin, TX LGBTQ family lawyer team today to learn how our firm can help your family. We look forward to speaking with you.