LGBTQ Divorce Lawyer Austin, TX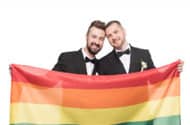 Same-sex marriage has been the law of the land since 2015, when the U.S. Supreme Court delivered a landmark ruling in Obergefell v. Hodges. Gay marriage became legal in all states as a result, opening the door for all manner of family law rights and recognitions.
As conservative as Texas often is, same-sex marriage is legal here, too. Unfortunately, old biases die hard and some state-specific family laws are slow to expand enough to cover new scenarios. As a result, members of the LGBTQ community still find themselves facing discrimination and legal issues, including in matters of conservatorship (child custody). This is one of the many reasons why it is important to connect with an LGBTQ divorce lawyer Austin, TX residents trust if you're facing a legal challenge related to conservatorship. If you don't have experienced professional advocacy from an Austin, TX LGBTQ divorce lawyer on your side, you may be affected by old biases in ways that can be life-altering for you and your kids. 
Conservatorship Issues After Leaving a Heterosexual Marriage
Because being gay carried such a social stigma for so long, it was common for people who knew they were gay to enter into heterosexual marriages and have children. When same-sex marriage became legal and the stigma largely went away, many of these marriages understandably ended in divorce.
Former couples with kids have needed to go through the conservatorship process, and this is sometimes where bias continues to rear its ugly head. Judges have been known to deny or unfairly limit custody (conservatorship) to a parent who has come out as LGBTQ, seemingly for no other reason than that the judge took issue with the parent's identity.
It should go without saying that this is not legal. Moreover, courts must make custody decisions only in the best interests of the child or children. Denying a relationship with a loving parent because they are LGBTQ definitely doesn't meet the best-interest standard.
If you find yourself in this situation, you don't need to simply give up or agree to unreasonably stringent restrictions on your lifestyle (such as never introducing a new same-sex partner to your kids). Instead, fight these biases and unfair rulings with the help of an Austin, TX LGBTQ divorce lawyer from the Law Office of Jason Wright, PLLC who will fiercely advocate for your rights.
Parental Rights Issues for Non-Biological Parents
LGBTQ couples often want to raise children together, and that usually means conceiving non-traditionally or adopting. For many gay or lesbian couples who either seek a sperm donor or a surrogate/egg donor, only one of the two parents ends up being biologically related to the child.
This is not an issue in the least when it comes to loving and providing for a child. But it can cause major problems if the parents ever get divorced or otherwise break up. The non-biological parent often has no legal rights or unclear legal rights, in part, because Texas parentage laws have not been adequately updated to cover these types of cases.
If you worry that this could ever happen to you, please contact an Austin, TX LGBTQ divorce lawyer to help formalize your parent-child relationship through adoption or other official means to protect yourself against a heartbreaking scenario like the one described above.
Legal Help Is Available
Even though same-sex marriage is legal in Texas, LGBTQ individuals and couples still face many uphill battles. Thankfully, there are Austin, TX LGBTQ divorce lawyers ready and eager to help, including those at our firm. Call us today to arrange an initial consultation. We look forward to meeting with you.